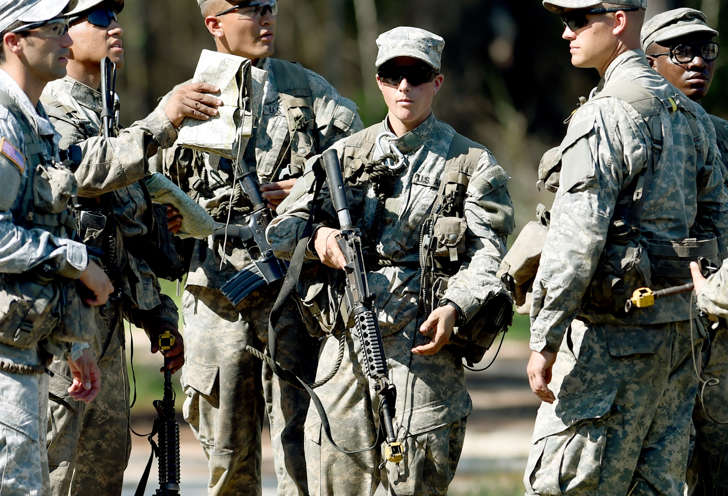 © Nick Tomecek/Northwest Florida Daily News via AP In this photo taken on Aug. 4, 2015, a female Army Ranger stands with her unit during Ranger School at Camp Rudder on Eglin Air Force Base, Fla. According to the Northwest Florida Daily News…With the military poised to expand combat roles to women, the first two female soldiers who will graduate from the Army's grueling Ranger School have already served in jobs that have been part of the de facto integration of women into front-line combat in the last decade.
One, First Lt. Kristen Griest, who has been selected for promotion to captain, has served as a military police platoon leader. The other, First Lt. Shaye Haver, was a pilot on an Apache attack helicopter in an aviation brigade.
The two officers, both accomplished athletes in their mid-20s and West Point graduates, will graduate on Friday along with 94 men from Ranger School at Fort Benning, Ga., a significant milestone in the move toward allowing women into direct combat roles. As it officially stands now, neither woman is allowed to serve as an infantry or tank officer, or even try out for the 75th Ranger Regiment, the Army's premier light-infantry unit that has its own rigorous selection process.
That might be about to change: The Army, and the other services, must decide by Jan. 1 whether to seek exemptions from a 2013 order ending the formal ban on women in combat. Allowing women to attend Ranger School was seen as a way to help the Army reach its decision. By year's end, the services must identify jobs they want to continue to restrict to men and provide a rationale for doing so, but any exemption would have to be approved by the defense secretary.
On the heels of the Army's disclosure on Monday that the two women had qualified to graduate from Ranger School, there are indications that most military services will not seek to block women from many combat jobs — even the Navy SEALs, one of the most elite forces in the military.
Many senior military officers appear to be embracing a credo that women who can meet the same standards as men for certain jobs should have an opportunity to serve in the jobs.
The nation's top sailor, Adm. Jonathan W. Greenert, said on Tuesday that any woman who can pass the SEALs' six-month basic underwater demolition and training program, should be allowed to serve in the SEALs, according to Defense News. It was the first time Navy officials had suggested they would likely open the program to women.
"We're on a track to say, 'Hey, look, anybody who can meet the gender nonspecific standards, then you can become a SEAL,'" Admiral Greenert, the chief of naval operations, told the newspaper. There is "no reason," he said, why anyone who can meet those standards should not be accepted.
Of the two main infantry services, the Army appears to be moving more quickly, while the Marines have expressed greater reluctance. The Marines recently opened their infantry officer course to women, but none of the 29 female officers who started the program passed.
The Army has allowed The New York Times and other news organizations to observe some segments of Ranger School, partly to show that the women were being trained and graded the same way as men. The Army had asked that the names of the women be withheld until graduation events that begin Thursday to prevent distractions and harassment. While there has been little organized opposition to their Ranger training, there has been significant and at times intense criticism on Facebook and other social media. The Times is reporting the women's identities after their names were published elsewhere.
Lieutenant Haver, who graduated from high school in Copperas Cove, Tex., in 2008 — near one of the Army's largest bases, Fort Hood — played on the school's varsity soccer team as a freshman, ran cross-country and track, and was a leader in the junior R.O.T.C. program, according to The Killeen Daily Herald.
The newspaper quoted her former junior R.O.T.C. instructor, Chief Warrant Officer Enrique Herrera, as saying that he knew she would become a leader the day she walked into his office as a freshman.
"I knew at that moment that three years down the road she was going to become my battalion commander, and of course, she became my battalion commander," he said, adding: "She knew in her mind what she wanted to do, and she went out and did it."
While in her last year at West Point, Lieutenant Haver took part in a combat exercise with a visiting Prince Harry from Britain, even barking out orders to the young royal while on the firing range, according to The Daily Telegraph.
Lieutenant Griest, who is from Orange, Conn., was named the distinguished honor graduate of her brigade's Ranger assessment program last year, one of five soldiers to complete the course. She was also the champion of a 12-mile foot march by members of the headquarters detachment of her military police battalion.
According to the Defense One website, a West Point instructor said that Lieutenant Griest had talked about joining the infantry since she was a cadet. "It was common knowledge to people that knew her that that is what she wanted to do," the instructor said, according to the website.
In addition to serving as an early step toward integrating women into combat, allowing female soldiers into Ranger School reflected a reality that women have been serving in dangerous front-line military jobs for years, like top-gunners in Humvees and door-gunners on helicopters in Iraq and Afghanistan.
The two women who will graduate at Fort Benning on Friday were among 19 women who began Ranger training in April. Most dropped out early during the nine-week course, though one is repeating a prior phase of training in hopes of graduating soon.
The two female officers performed the same physical tests as the male students, including an initial requirement to complete 49 push-ups, 59 situps, six chin-ups and a five-mile run in no more than 40 minutes. The course included a swim test, a land navigation test, a 12-mile foot march in three hours, obstacle courses, four days of military mountaineering, 27 days of mock combat patrols and, depending on whether a student was jump-qualified, parachute jumps or helicopter air assaults. The students operated with little sleep during training at Fort Benning, in the mountains of Georgia and in the swampy Florida Panhandle. In total, they hiked roughly the distance from New York City to Boston with heavy packs.
During the course, the two women received good marks on physical tests and on peer assessments, where classmates rank one another on how good a teammate and leader other students would be, and how much they would want to be with them in combat. Like a lot of male students, the women had some difficulty on graded patrols, where students take turns role-playing as platoon leaders, platoon sergeants or squad leaders, and are evaluated on how they plan and execute missions, and how they react to simulated surprise attacks.
About 4,000 officers and enlisted soldiers start Ranger school every year, but only two out of five graduate. About 3 percent of active-duty soldiers in the Army have earned Ranger tabs, but doing so is an unofficial prerequisite for many infantry commands, and it is an explicit requirement for leading combat troops in the Ranger regiment.